PMC Operator I (Catoosa, Ok)
Employment Type

Full Time

Contact Email
Next Steps
This job is closed to new applicants.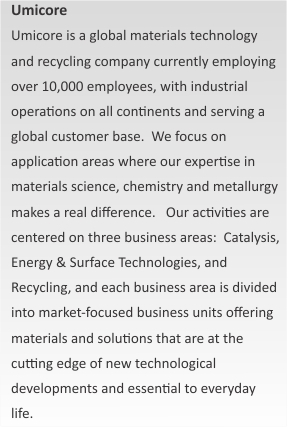 Description
"Umicore is a global materials technology and recycling company currently employing over 10,000 employees, with industrial operations on all continents and serving a global customer base. We focus on application areas where our expertise in materials science, chemistry and metallurgy makes a real difference. Our activities are centered on three business areas: Catalysis, Energy & Surface Technologies, and Recycling, and each business area is divided into market-focused business units offering materials and solutions that are at the cutting edge of new technological developments and essential to everyday life. To learn more, visit us at www.umicore.com."
"To add to our valuable team of dedicated employees, Umicore is currently seeking a(n) Operator I in our Umicore Precious Metal Chemistry business unit, located at our Catoosa, OK facility."
Responsibilities
Within the framework of PMC's operational policies and procedures, the holder produces chemical catalyst products in order to meet customer specifications and timelines. The holder must demonstrate an in-depth understanding of the chemical processes in such a way that he or she will be able to perform tasks unsupervised.
• Produce organic chemical product as directed by the daily schedule and production supervisor to meet production goals • Execute batch processes with all supporting working documents (batch records, checklists, worksheets, etc.) in a manner that adheres to customer and Umicore specifications • Perform simple maintenance on machinery and equipment to include functional testing and commissioning with the appropriate knowledge and skills • Operate the partial PLC controlled production and other ancillary units for manufacturing or packaging of a variety of intermediate and end products including operation of furnaces, working up the mother liquors, recovery of precious metals • Complete production documentation as directed by procedures and the production supervision • Package for shipment product by DOT and HAZMAT requirements • Perform simple maintenance on machinery and equipment to include functional testing and commissioning with the appropriate knowledge and skills • Maintain the facility's cleanliness in accordance with established visual and lean methods • Other duties as assigned by Production Supervisor.
Required Skills and Experience
EDUCATION AND EXPERIENCE:
• Required Education: High School Diploma • Preferred Education: Completed chemical/technical vocation training • Experience: A minimum of 2 years of chemical operator experience or equivalent • Additional experience a plus: Basic working knowledge of DOT shipping practices, Lean Manufacturing, and Visual Workplace methods. • Working knowledge with PC, Office, ERP systems
REQUIRED SKILLS: • Good written and verbal communication skills • Demonstrated ability to follow given instructions and procedures • Desire and demonstrated ability to work in an entrepreneurial environment • Understanding and operating of automated systems and processes • Demonstrated ability to multitask • Desires to maintain a safe, clean working environment • Demonstrated ability to work in a team environment • Willingly accepts and performs special assignments • Required to obtain a forklift license
Umicore is an Equal Employment Opportunity Employer of Minorities, Females, Persons with Disabilities, and Veterans.
If you need assistance in applying for this position, please contact Diane Hammons, HR Manager at diane.hammons@am.umicore.com or by calling Umicore Human Resources at (918) 266-8078..